Ali MacGraw & Ryan O'Neal Star in the Play 'Love Letters', Set For a Limited Run at the Fisher Theatre in Detroit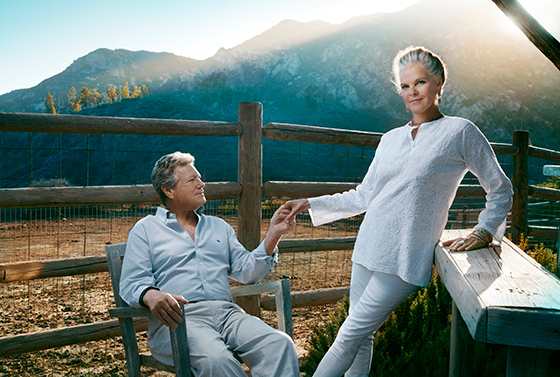 (Photo Credit: Austin Hargrave)
In 1970, Ali MacGraw would hit stardom alongside Ryan O'Neal in the film Love Story. Over 45 years later, the two are reunited again paired for Love Letters, a play written by A.R. Gurney and directed by Gregory Mosher, that tells a lifelong tale of undying love. Along with its original Broadway run, all sorts of famous pairs have taken the roles of Love Letters' main characters Andrew Makepeace Ladd III and Melissa Gardner in various adaptations, and Ryan O'Neal and Ali MacGraw were asked to be in the play's current touring incarnation.
Recently, I was able to chat with both Ryan O'Neal and Ali MacGraw and we waxed poetic about their history together and how that ties into their roles in Love Letters.
How did the idea come about to have you two pair up for Love Letters?
Ryan O'Neal: They saw a photograph of us. We looked smashing! The producers said 'I wonder if they'd like to do the play?' It was as simple as that.
Ali MacGraw: The photograph ran in a special edition of The Hollywood Reporter so everyone in the various show business industries got it and that picture caught the attention of a big Broadway producer named Nelle Nugent, and already, she was producing it on Broadway with alternating casts last fall and when the run was up, they decided to take it on the road and she said 'What about them?'. That's it.
How has the experience on tour been thus far?
Ali MacGraw: Wonderful. Rewarding. The work is wonderful and I love working with Ryan. It's just perfect. We have a terrific little crew with us and we like all of them enormously.
Ryan O'Neal: And we're a smash!
Looking back to when you did Love Story together, what are your memories from back then? What really sticks out?
Ryan O'Neal: Oh, how famous we were (laughs).
Ali MacGraw: Out of nowhere in my case. From zero to 100 mph in three months. It was really amazing, startling. It doesn't happen very often. It was totally, totally un expected obviously.
Ali, did you have any clue it would become as popular as it did?
Ali MacGraw: Of course not! Heavens no! I had done one film and it had gotten very good notices. I had a contract to do another one. Luckily, it turned out, it's a very long-winded story that I won't bore you with, but it turned out to be with Paramount, to whom I owe the film, and they had bought the property that Howard Minsky had been hard at work trying to step up. They tested a lot of people that you've heard of and when Ryan walked in the room we all knew that it was going to be perfect. We had this wonderful director, Arthur Hiller, and the three of us made really deep connections, so the whole thing from my point of view was just a joy. Little did I know that wasn't every movie experience (laughs).
Ryan O'Neal: It was the most enjoyment I ever had working.
Having such a bond on that movie, what were your initial thoughts about when this Love Letters play came about? Did any old feeling rush back?
Ryan O'Neal: That's a long rush! 45 years (laughs).
Ali MacGraw: I think the short form is that we knew we worked really happily together. We have a terrific script and a really brilliant director; so what more could you ask for. I thought it was a miracle, and you know it came out of nowhere for me anyway. I've had a very different life for a long, long time, this is the last thing I expected. The excitement, of course, was to do it with Ryan.
What is it about each other than make it great to job together?
Ryan O'Neal: That's a good question, but its better that we don't know the answer.
Ryan O'Neal: Yeah, it's something automatic.
Ali MacGraw: And trust, which is a big deal. It's potentially scary to sit on a stage with maybe, often so far, 1500 people watching and wanting their money's worth and everything, and when it starts, I never see the audience and its just the energy of Ryan and me and these wonderful words and very specific direction at to where we should go with them. It's actually a tiny experience but it has huge repercussions I think.
What goes through your head while you are up there that incites these ranges of emotions through the story of Love Letters?
Ali MacGraw: Being as real as I can, that's the only thing. There's no calculation at all. I'm listening to Ryan. He's brilliant in this. Really moving. Really funny. If all that I am doing is being present for him, that is as good as I can get.
Ryan O'Neal: My challenge is to keep from crying.
Ali MacGraw: It's really well written play and Ryan is really wonderful in it, so if I listen to him, I take quite a trip from real. If I tried to act, it would be ghastly.
Ryan O'Neal: She's a wonderful actress, who knew?
Ali MacGraw: I sure didn't (laughs).
Ryan O'Neal: I'm not supposed to look at her, but I want to look at her because I want to see what she is doing its so good.
Ali MacGraw: We've been doing this now for like 60 performances and we're getting more comfortable physically, even with the restriction of sit next to each other and don't look. Every once in a while, out of the peripheral of our eyes, we're aware that there's a new gesture that we didn't know about before. It's quite fun.
Ryan O'Neal: Out of the corner of my eye, I watch her arm sneak across the table like a snake towards me! (laughs)
Ali MacGraw: And once, Ryan said 'You know I took my glasses off' and I said 'I know. I saw a blur in your left' (laughs).
Ryan O'Neal: We're getting braver, that's what we are doing.
Ali MacGraw: And probably looser.
Love Letters is set for a run at the Fisher Theatre in Detroit from April 12-17. For more information, visit broadwayindetroit.com or lovelettersontour.com.
Calling all HuffPost superfans!
Sign up for membership to become a founding member and help shape HuffPost's next chapter