In 1986, Annoyed Disney Animators Renamed All The Disney Classics
August 3, 2019
In 1986, Disney changed the name of their project "Basil of Baker Street" to "The Great Mouse Detective", causing Disney animators to pass around a joke memo blandly renaming some Disney classics.
The memo eventually reached a very unimpressed Jeff Katzenberg, then-CEO of Disney, who, tried and failed to uncover the identity of the memo's creator.
To make matters worse, a copy then found its way to the LA Times.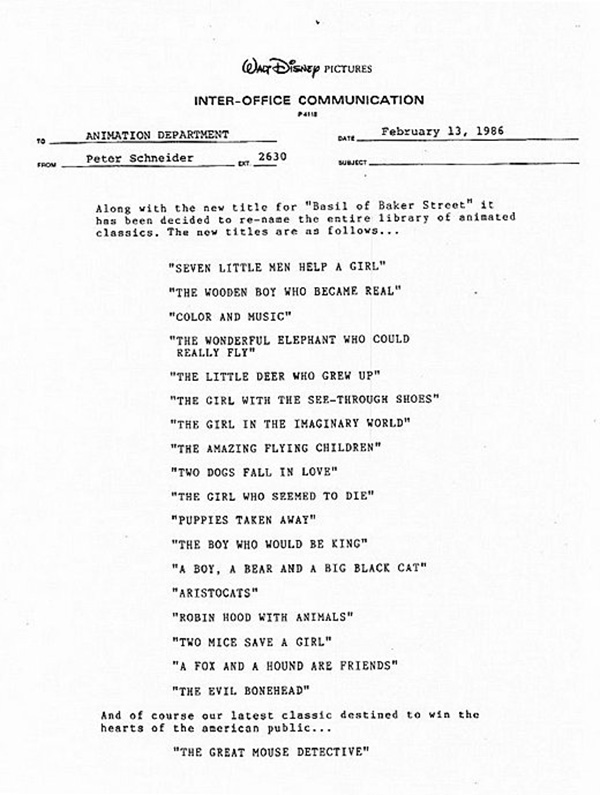 Image credit: LettersOfNote
The Full Transcript reads:
Walt Disney PICTURES
INTER-OFFICE COMMUNICATION
TO: ANIMATION DEPARTMENT
FROM: Peter Schneider EXT: 2630
DATE: February 13, 1986
SUBJECT:
Along with the new title for "Basil of Baker Street" it has been decided to re-name the entire library of animated classics. The new titles are as follows…
"SEVEN LITTLE MEN HELP A GIRL"
"THE WOODEN BOY WHO BECAME REAL"
"COLOR AND MUSIC"
"THE WONDERFUL ELEPHANT WHO COULD REALLY FLY"
"THE LITTLE DEER WHO GREW UP"
"THE GIRL WITH THE SEE-THROUGH SHOES"
"THE GIRL IN THE IMAGINARY WORLD"
"THE AMAZING FLYING CHILDREN"
"TWO DOGS IN LOVE"
"THE GIRL WHO SEEMED TO DIE"
"PUPPIES TAKEN AWAY"
"THE BOY WHO WOULD BE KING"
"A BOY, A BEAR AND A BIG BLACK CAT"
"ARISTOCATS"
"ROBIN HOOD WITH ANIMALS"
"TWO MICE SAVE A GIRL"
"A FOX AND A HOUND ARE FRIENDS"
"THE EVIL BONEHEAD"
And of course our latest classic destined to win the hearts of the american public…
"THE GREAT MOUSE DETECTIVE"
Please consider making a donation to Sunny Skyz and help our mission to make the world a better place.
Let's block ads! (Why?)