Man Helps Humanity By Having Hour-Long Talks With Strangers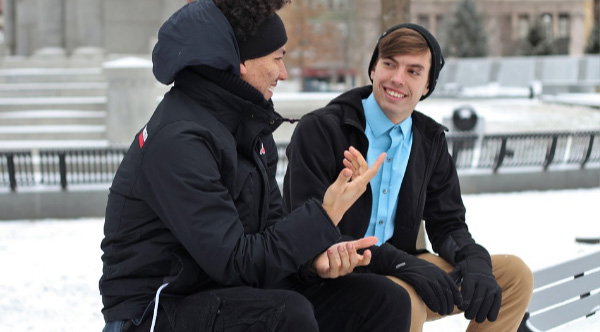 October 2, 2019
With everyone getting overly involved with social media and technology these days, it is evident that a major gap is coming between the human connections.
However, Rob Lawless, is doing his bit to fill this gap by having dedicated endless number of hours of talks with complete strangers.
2883. "It was like 11 o'clock and there was this group of 4th graders outside." About a year ago, Matt James traveled from his home in the Upper West Side to Alphabet City just so he could eat at one of his favorite restaurants, @bobwhitecounter. While there he met a group of 4th graders who playfully made fun of his pants and asked him what he was doing in the area. When he told them about the restaurant and discovered they'd never heard of it (even though they were from that neighborhood), Matt decided to do something about it. Raised in Raleigh, NC where he rarely had the opportunity to eat out, Matt first became exposed to his area's restaurants during high school. He then witnessed how impactful sharing meals could be when he played football at @wfuniversity. During his time there, the school would bus kids in from low income areas to eat meals with the team. Therefore, inspired by his past and his interaction with these kids, Matt decided to start @abcfoodtours, an organization focused on exposing low income kids to fitness and restaurants in their neighborhoods. Aside from growing his impact in the community, though, Matt currently works full-time in commercial real estate, acts as an ambassador for @lululemonnyc and still finds time to dedicate to his family, his faith, and of course food! Awesome hanging with you, @mattjames919! #10kfriends #nyc #cityhallpark #bobwhite #raleigh #wakeforrest #football #abcfoodtours #impact #realestate #family #faith #meetingpeople • How we met: Matt and I were introduced via our mutual friend, @gnarlybooz!

A post shared by 🌎 Rob Lawless (@robs10kfriends) on
Since the past 4 years, Rob has made a point to sit down and have an hour-long face-to-face talk with at least one stranger each day.
In general, he meets up with around 4 strangers on a daily basis, and has had these conversations with more than 2800 people so far since the year 2015.
The 28 year old extrovert from Philadelphia is open to hearing anything that the other person has to say. It could be anything ranging from someone's experiences with Las Vegas sports betting to how they've been struggling to make ends meet.
He's all ears and always listens intently.
Why he does it?
Upon being asked why he has chosen to get involved in this kind of initiative, he says that it's his belief that connecting with other humans is by far the best way to spend one's time.
He took up a corporate job after passing out of college, where his connection with others went for a complete toss. He graduated with a finance degree in the year 2013, and got appointed at Deloitte Consulting as a Business Analyst.
A time came when he started missing the familiarity with people around him, which he once used to relish so much.
2817. "When you have a role, as an introvert, it's easier to feel more confident." Though she describes herself as a shy introvert, Delilah Mulgannon focuses most of her energy on building community through niche conversations. Originally from Queens & Harlem, she often times spoke in the shadow of her mother as a kid and consequently became a more observant person throughout life. Wanting to expand her comfort zone and experience something other than NYC in college, though, Delilah went to @syracuseu to obtain a degree in Psychology. She then returned to the city and began participating in @americorps before joining a nonprofit, where she helped those who were formerly homeless find employment. Delilah left her job about two months, though, and now plans on pursuing something more entrepreneurial related to her passion for community. A fan of initiatives like @strangersproj and @freeic, she's completed her own projects, offering a listening ear to those seeking heart to heart conversations, and going forward plans to host workshops around journaling and connecting. Being an introvert, Delilah feels more confident as the host of events and is excited to continue creating communities amongst her other interests of yoga, acroyoga and spending time with friends & family! So nice to meet you, @delilahdoris! #10kfriends #nyc #washingtonsquarepark #introvert #community #queens #harlem #syracuse #psychology #entrepreneurship #yoga #acroyoga #meetingpeople • How we met: Delilah came across my project via @instagram somehow and then DM'ed me to meet!

A post shared by 🌎 Rob Lawless (@robs10kfriends) on
He wanted to meet others organically and not through rigid corporate associations where everyone had some kind of an agenda.
Rob began his 10kFriends project in November 2015, setting a massive goal of meeting at least 10,000 new people, and ran this project full time after he was laid off in July 2016.
2803. "You forget the pain, ya know, you really do." Throughout his professional career, Joel Davne has started about 12 different businesses, only half of which have really gotten off of the ground. Despite the pain of those that never went anywhere, Joel's always been attracted to the rush of creating businesses and has fared pretty well from the ones that did gain traction. Of that half, three have done really well, reaching multiple millions in annual revenue and allowing Joel to see the world through his business travels (he's now a million miler with @americanair). As a kid, Joel thought he was going to go to med school; however, when he struggled with his premed classes at @lasalleuniv, he returned to school and tried his hand at business. He described the feeling as breathing with an oxygen mask for the first time because everything flowed so naturally. Therefore, after working at @jeffersonuniv for a bit after school, he began his entrepreneurial career by starting a Physical Therapy business at 28 years old. Joel's since then entered the health IT space and now acts as the CEO of a different IT venture, @cloudnexa. In addition to the kicks he gets from business, though, he also has a passion for human connection and peeling back the layers of people's lives. Since visiting a Syrian refugee camp in Jordan 2 years ago, Joel has realized how fragile and complex everyone's lives are and now hopes to use his skillset to make a positive impact on human connection as well! Great chatting with you, @woggenager! #10kfriends #philly #graduatehospital #entrepreneur #serialentrepreneur #millionmiler #medschool #lasalle #business #IT #humanconnection #layers #meetingpeople • How we met: Joel read the @phillyinquirer article on my project written by @gracedphotos (#2703) and then emailed me to meet!

A post shared by 🌎 Rob Lawless (@robs10kfriends) on
A normal day for Rob Lawless starts by working out in the gym, followed by meet-ups with at least 4 strangers, lasting at least an hour each. In his opinion 4 is just the right number for him to feel accomplished, while also move along at a good pace. He meets up with these people anywhere, it could be beach, coffee shop or anywhere else. In one case, he met up with this person called Tyson McDowell, and spent time inside a self-made aeroplane that flew over the San Diego coast.
Rob Lawless strongly believes that spending even one hour with a person enables him to have a satisfying in deep conversation with them. There are times when these talks are superficial, like simply having a conversation about Philadelphia Eagles, but sometimes they can be very intense too. He is more interested in connecting with others and opening new doors to relationships. He doesn't have any desire of diving deep into other people's lives, but is always all ears if they're willing to take him there. The majority of his conversations are like two old friends meeting up after a long time.
Please consider making a donation to Sunny Skyz and help our mission to make the world a better place.
Let's block ads! (Why?)